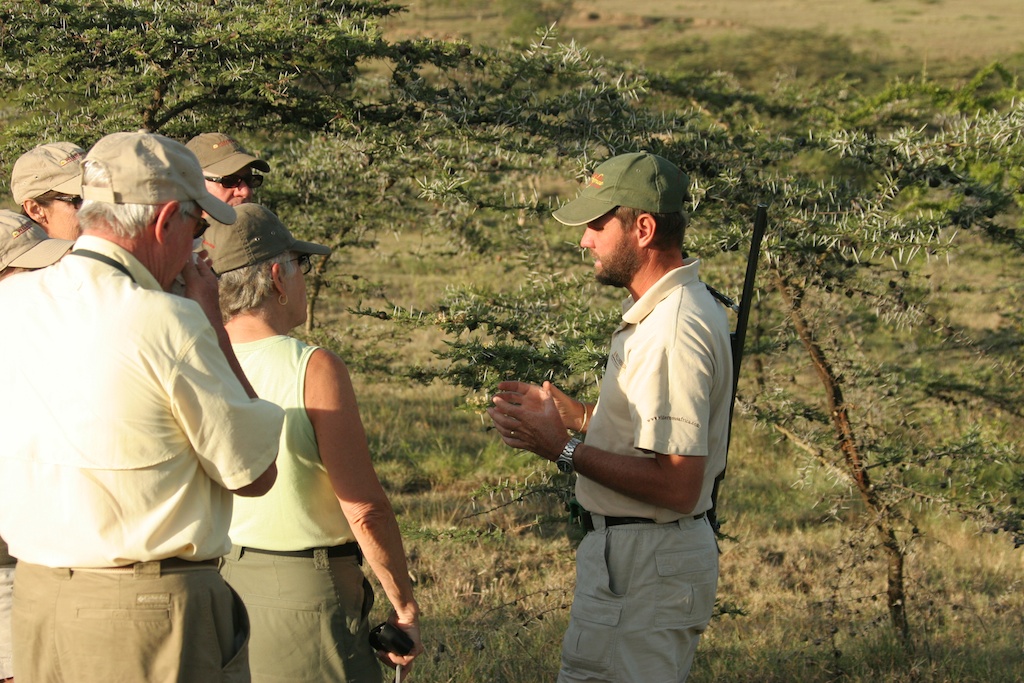 Here are some comments written to our guides from our guests about their experiences on journeys (safaris, hikes, climbs and other trips) with us.
to Dave Christensen – Safari in Tanzania
"AFRICA
Jambo or Sopa! Those are two ways of saying hello. One is in Swahili, the language most people of Tanzania speak and the other one is in Ma, the language of the Masai. Those are two languages spoken in Africa, where I recently was. I went to Tanzania, the most spectacular place in the world. Or, at least it was to me.
I stepped from the airplane and into a compelling new world. The scent of wildfires and Jasmine filled the air and a new, wonderful, enchanting feeling went tingling up my spine. I met our guide, Dave and our guide/drivers, Gabriel and Cheddy and they all were as amazing as the place we were in. From that second to the end of the trip, I was smiling, laughing, or staring with intense curiosity at what I saw, heard, and learned.
Once we got to the place we were staying my excitement only increased. Although I fell asleep almost immediately I was up before the sun the next day. I went for a walk with my Grandma: Gigi, who is the reason I got to go to Africa in the first place, and we saw a gazelle. The wildfire smell had disappeared and it never did come back.
We moved from place to place every two or three days. The second place we stayed was in the Ngorongoro Crater. There were more animals in there than you could point a stick at: Antelope, Gazelle, Lion, Leopard, Zebra, you name it! They were all there.
The Giraffes were so majestic, the lions so regal. The zebras would walk right in front of us without questioning a thing. Elephants were so big and magical, the birds so beautiful, the trees like tabletops, towering above it all… It was remarkable, every second of it.
The views and light took my breath away. At dawn and dusk, the sky turned gold, casting long shadows across the golden desert, now pink from the sky. Little pink wisps of cloud would stretch across the golden canvas it sat upon, leaving patterns unable to capture with a camera or a paintbrush. During the wildebeest migration, the golden fields were filled with dark, stitch-like lines that weaved among the trees and grass.
We saw so many things and learned things I would have never imagined. If only there were a way to capture the feeling, the experience, through words or pictures but I can't. Pictures might look exciting but will never truly mean something to you until you understand the feeling of really being beyond pictures. It was the most amazing experience of my life. I just hope someday that I will return. I would travel for days to go back just for a moment. That was my Spring Break. There will be many more to come but it'll be hard to experience one more magical than this." Carson Vogel (11 years), Sun Valley, ID, United States March 2015
to Justin Bell – The Pyrenees (Spain & France)
"A great trip with great friends. The Pyrenees are fantastic, and this is from someone who gets to hike in the Pacific Northwest on a regular basis. I thought the Hotel Arcé was over the top. Thanks for great guiding." Doug Rosen, Seattle, WA, United States October 2011
to Justin Bell – The Pyrenees (Spain & France)
"Justin, Your professionalism and good humor made this an especially memorable trip. I look forward to travelling with you again – perhaps in Africa!" Pete Leavell, Denver, CO, United States October 2011
to Marc Baker
"I've met few people in my 72 years with the zest, zeal and storehouse of knowledge that Mark possesses and is willing to share with prefect strangers. He has a keen sense of humor and the patience with young children that only a parent can usually muster." Taylor Buckley, Chestertown, MD, United States September 2011
to Dave Christensen – Safari in Zambia & Botswana
"Dear Dave, the Jones Family Safari has been an incredible trip for all of us!   Our expectations have been surpassed.   Every day has been filled with wonderful wildlife watching and educational information on the mammals, birds and plants.   We have loved the variety of bush camps and national parks.   You exhibit such a love for it all and such a big commitment to being a great guide.   We have all had fun!   Thank you for embracing us with open arms and an open mind.   We look forward to planning the next trip.   Love Brenda." Brenda Jones, Austin, TX, United States August 2011
to Justin Bell – safari in Tanzania
"Justin, Thank you so much for leading us through an unforgettable two weeks in Tanzania. The de Roulet family trip of a lifetime! There were so many amazing experiences connecting us all to the cycle of life that I often forget I'm part of it! Thank you for sharing your knowledge about every aspect of "the bush". I hope to do this again in 25 years with our own family (with you)!" Julia de Roulet, Brooklyn, NY, United States August 2011
to Justin Bell – safari in Tanzania
"Justin, Thanks to you my love for the outdoors has been reunited and I have fallen in love with the African bush! Shooting and sharing photography has given me great joy, and I hope that you continue to share it with me in the future. Your knowledge of the bush is truly inspiring and your willingness to share it makes it worth 10 times more. I don't know the next time I will be on safari, but it won't be the same without you and Fazo. This was the best trip of my life and I am so sad it's over. THANKS." Seth de Roulet, Summerland, CA, United States August 2011
to Justin Bell – safari in Tanzania
"Justin, I think my children have chosen the right words: unforgettable, trip of a lifetime, inspiring,… truly, Justin, it was a privilege to see Tanzania, and enjoy all of its treasures and subtelties with you and Fazo. From orchestrating smaller and larger details of the ceremony to renew our vows, complete with singing and dancing, Masai teens, vintage champagne,  and haute couture wedding outfits (courtesy of "D.V.Fazo") to getting me to the top of Mt Meru (and down again!) to finding the leopard within the last hour before departing the Selous – you had the magic touch!! Neither Midas nor Obama could have done as much! To you and Gillian, my deepest and most sincere thanks." Megan de Roulet, Laurel Hollow, NY, United States August 2011
to Dave Christensen – Safari in Tanzania
"Thank you so much for making our African safari experience so fabulous!   We learned so much from you and truly appreciate how much you care about your guests, their wellbeing and their experience.   We so enjoyed your stories from previous safaris and your encounters with animals.   You have a wonderful way about you and we so enjoyed being with you for our first safari!   We look forward to coming back and travelling to South Africa and Botswana together.   You have broadened our world and we thank you very much.  Asante!"   Ruth, Rick and Jeffrey Horowitz, Philadelphia, PA, United States. July 2011
to Dave Christensen – safari in Tanzania
"Dear Dave, We are blessed to have been guided on safari by someone who had a baboon as a pet and thirty snakes as a child.  The depth of your knowledge and your passion for African wildlife are so obviously a lifelong love.   We hope to hang on to just a bit of your wisdom and to take the lasting impressions of the African bush, its wildlife, the light and the endless plains of the Serengeti with us.   May the inevitable pace of change go "pole pole"…. I hope the "call of the wild" brings us back for more experiences in Africa and thank you so much for looking after us all. " Wendy, Ron, Max and Emma Schrager, Miami Beach, FL, United States July 2011
to Justin Bell and Dave Christensen – Kilimanjaro climb & safari in Tanzania
"Our experience on Kilimanjaro was so unforgettable and I have so many memories that I will cherish forever. Your guidance and expertise got us to the summit in one piece (which our nervous mothers were happy about) and we had an amazing time getting there. Through the difficult times we still had plenty of laughs and games of President. You truly gave us the best trip possible. We are having an awesome time on safari now with Dave. Thank you so much for everything you did to make this trip to Africa an amazing one. Asante!" Emma Schrager, Miami Beach, FL, United States July 2011
to Justin Bell – Kilimanjaro climb
"Justin, I have to admit, the first time you had us do the deep breathing exercises on the mountain was slightly annoying; however, once we got to higher altitude and I found that I couldn't breathe unless I did what you told us to do, I realized you knew what you were talking about and we were in good hands. Your knowledge and leadership was what kept everything together on Mt Kilimanjaro. Thank you for everything, and I thought you should know that I learned how to open the bottles without a bottle opener while on safari." Max Schrager, Miami Beach, FL, United States July 2011
to Justin Bell – Kilimanjaro climb
"Justin, We have had a phenomenal two weeks in Africa. Thanks so much for making that possible. You are a wonderful combination of passion, thoughtfulness, and caring. Our Kili climb was exceptionally well planned and executed. We had the type of memorable experience for which we had hoped, and did it all with a minimum of discomfort and a maximum amount of fun and great moments. The quality of our experience was as important to you as it was to us, and we truly appreciate that effort and concern. The safari has been great, highlighted by Dave's ability to teach, explain, spot and pamper. He is a delight to be with. Thanks again. We will be back." Rick Horowitz, Philadelphia, PA, United States July 2011
to Dave Christensen – safari in Tanzania
"What we learned about the leopard kill, termite mounds, secretary birds, wildebeests' sex lives, hippo teeth, giraffe vertebrae, rhino tusks, elephant ears, dung beetles, tiger fish teeth, croc mating habits, the sun and the stars could fill a book.   What we learned about ourselves was even greater. Thank you for a trip of a lifetime.   We look forward to seeing you in November."   Doug and Sarah Luke, NY, United States June 2011
to Dave Christensen – safari in Tanzania
"Dear Dave – Asante sana – Sana!! WOW.   What can we all say – or how can we adequately convey our appreciation for the way you (along with Justin/Gillian) have opened our eyes to the wondrous world of the Serengeti, the Grumeti, Ngorongoro and the Selous.  It has been sublime in every respect. Your knowledge, your kindness and concern for us all, your amazing ability to spit out giraffe turds (I believe amazed all of us all along the way). This is the beginning of our love affair with Africa, no small thanks to you. With great affection, here's to the future possibilities." Podie, Jim and Gates Torrey, Greenwich, CT, United States June 2011
to Justin Bell – safari in Tanzania
" Sitting in the mess tent as thunder and rain set the mood. Beautiful storms cross the savannah in front of our camp in Moru Kopjes. Lions playing yesterday. Elephants in quantity busting trees. Tsetse flies. We are six, enjoying seeing the real world as it was a hundred thousand years ago. We view nature in such complexity and yet with sublime understanding. All of this supported by Ken and Jairo and of course Justin, who fills us in on what we see or don't see right away. He is the key to this wildness, dispelling fear of the unknown with incredibly lucid explanations of the fauna and flora, geology, hydrology, biology, paleontology with general good humor and wit. We are forever grateful and hope to return. " The Everdells, San Francisco, CA, United States February 2011
to Dave Christensen  – safari in Tanzania
"What a perfect trip, thanks to you.   You are a delight to spend time with and know so much about just about everything.   You really delivered for us.  Hats off! We look forward to the next trip and a leopard sighting! I can't wait for us going to Botswana, Zambia and Zim.  Soon! Please give me the cell phone number of the Masai elder with seven wives. " Mike and Joy Phelps, Vancouver, BC, Canada January 2011
to Justin Bell – safari in Botswana
" Our forth safari with you, Justin. All as good as it gets. " Sherri and Hugh Magee, Vancouver, BC, Canada October 2010
to Justin Bell – safari in Botswana
" Justin, What you have.contributed to our understanding of Botswana, Africa generally, the habits of the lions, elephants, giraffes, lechwe, impala, tsesebbe, etc and finally in Chief's camp, the leopard, and all the birds in all 4 camps, is beyond description. " Judi and David Korbin, Vancouver, BC, Canada October 2010
to Justin Bell & Richard Cash – Pyrenees
"You and Richard provided a wonderful eye into the culture and geography of the Pyrenees. Every accommodation was excellent. I appreciated your attention to detail. Listening to you and Richard talking about the history and culture of Spain was always enlightening. Special thanks to Richard for his profound knowledge of all the towns, hiking trails and local stories." Chris Hamilton, Berkeley, CA, United States
to Richard Cash – Pyrenees
"Thanks for the fabulous introduction to the Pyrenees, all aspects of mountain life from food to flora and fauna. With Richard to explain the local aspects of what we were experiencing, we really got a good feel for the culture. Del & I couldn't ask for a better two weeks in Spain." Gary Nelson & Del Woods, Aptos, CA, United States August 2010
to Justin Bell – safari in Tanzania
" Justin, How amazing is Africa! We have gone to sleep each night with heads full of the day, looking excitedly forward to tomorrow. You are the master planner, the meastro of organization. Thank you for being our guide, our teacher, and now our friend. We have learned so much, shared so much, our family will always remember and cherish these days of high adventure with you. Your knowledge and love for Africa has been inspiring. None of us will ever look at a bug, plant, tree, bird or animal in quite the same way again. You really have opened our eyes to the world we live in. Our incredible memories of Africa will now be shared many times by our family in the years ahead. We look forward to the day when you lead us on our next great adventure. Thank you for being a memory maker, a great guide. " The Senft family, Vancouver, BC, Canada July 2010