Carl was born and educated in Zimbabwe. He was raised in an environment of people interested and knowledgeable about wildlife, so there was little surprise when he was keen to go on fishing and game viewing safaris during his school years.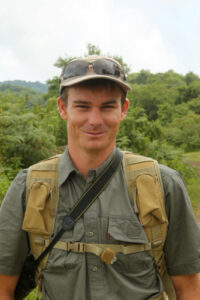 In 2016 he passed his guide proficiency test, becoming one of the youngest fully licensed professional guides in Zimbabwe. He supplemented this with a qualification in first aid, and he holds a licence to handle and administer Class A dangerous drugs. This is required for immobilising wildlife when veterinary care or relocation is needed.
Carl is keen to be involved in the conservation world. He aims to not only expand his horizons as a professional guide, but to contribute to saving Africa's wildlife on a larger scale.
When not on safari Carl works on his family's fish farm in the Kariba area of northern Zimbabwe. His interests include bird-watching, fishing, apiculture, photography and conservation. He also enjoys running and tennis.