While game driving in Etosha national park, we sa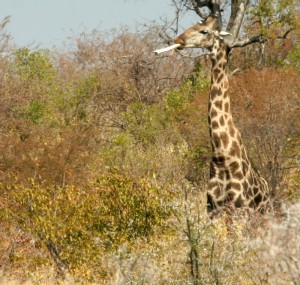 w a giraffe doing some rather strange neck movements, as if it were trying to reach higher into the sky.  We also noticed something white that it seemed to have in its mouth, and which made it appear that it was smoking a pipe!
When we watched through binoculars it was clear that it was chewing on an animal bone – actually it was a giraffe leg bone!
The spectacle looked totally bizarre, and we were there quite a while watching it. My kids were fascinated.
It is not uncommon for giraffes to eat animal bones, especially in the dry season. It is thought they do this to obtain calcium and phosphorus – both ess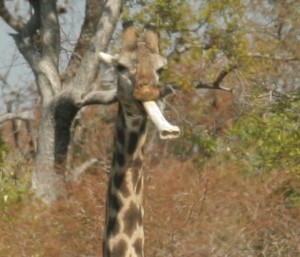 ential minerals that are often hard to find in the wild. What I am interested to know is how often they choose to chew on a giraffe bone rather than any other bone, and if there is a reason for this?
Does anyone have any idea? Dave, do have any suggestions?
Justin