As we arrived at the exclusive Kiba Point Lodge in the Selous Game Reserve (Tanzania), waiters greeted us with fresh towels and a frosty glass of passion juice.
The lodge emanates space, even though it is tucked in the shady trees of a riverine forest. All the structures are built up off the ground to facilitate a separation of beasts and Man. The dining room and lounge have enormous ceilings, and are completely open on the side facing the wide Rufiji River, allowing for expansive views and a cool breeze to flow.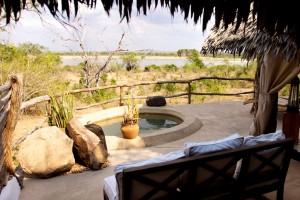 The rooms are designed in a similar way. They boast enormous beds, a semi-enclosed en suite bathroom, with "his and hers" washbasins and shower and loo, veranda, plunge pool and an area to the side with a table and chairs, perfect for reading a novel while sipping coffee delivered at dawn, in full view of the resident vervet monkeys.
One morning we set off by dinghy, dodging pods of hippos as we navigated the massive river. We fished for tiger fish from the bank, watching out for crocodiles at the same time. We observed a giant kingfisher a few feet from us, perched on a stick with his catch.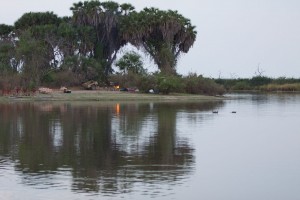 That evening we had a night out "fly camping" planned. We set off on foot, through herds of impala, and then along a crocodile infested lake. As the sun was setting, we turned a corner to find a campfire encircled by chairs, a fully stocked bar, and dinner being prepared in the background. Our tents tonight were made simply of mosquito netting over a frame. Our "beds" were no more than a bedroll – a mattress, linen, blanket and pillow.
While this was not the luxury of Kiba Point, we had all we needed. My guests were safe. Aside from myself and the Kiba Lodge manager, we had an armed guard patrolling the camp to keep hippos at bay during the night.
What is the purpose of a journey? For some, luxury or relaxation are the most crucial elements. However, luxury is available throughout the world. Others cherish the lasting memories. The fact that years later they can still chat about the day they saw a leopard stalk a guinea fowl.
We chatted by the campfire, sipping gin and tonics as we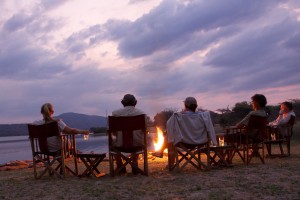 watched the herons begin to roost on dead leadwood trees, which resembled contorted sculptures, in the lake.  We dined under the stars, and slept serenaded by wheeze-honking hippos.
We experienced something our ancient ancestors may have experienced, but in more comfort.
Perhaps that is why an evening telling stories around a campfire, and sleeping in view of the stars is so powerful a memory?
Justin