I was on safari in Ruaha national park in Tanzania recently, with a group of guests keen on seeing interaction between predator and prey. While driving along the edge of the Ruaha River during a mid-morning game drive we came across a pride of lions fast asleep in the shade of an acacia, and decided to wait in the hope that a suitable animal would come down to drink.
Soon afterwards one of the lioness got up and began looking intently towards some impala. They gradually moved off, and she then began walking with determination up to an area of bush further up the slope and away from the river. She then lay down in the shade of an acacia.
The others remained where they were, and after there was no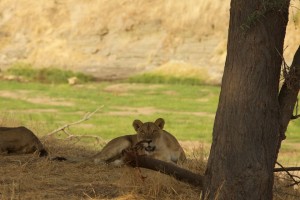 movement for about half an hour, I speculated that the lioness who had moved was lying in wait for suitable prey, such as zebra, to come down to drink.  Then all she would need to do is begin stalking towards the river. When the zebra spotted her she could chase them towards the rest of the pride. It all sounded like a great plan. Meanwhile there was barely a tail-flick from any of the lions, and herds of impala came and went.  Eventually the lioness who had moved got up, provoking warning snorts from all the impala in the neighbourhood.
She strolled languidly down towards the others, and we got good views of her greeting some of them, before she slumped down in true lion fashion.
We waited patiently and eventually more impala walked quite close by. Even though they would barely feed two lionesses, let alone six, we hoped that since they were so close there would be an attempt. Not a bit of it!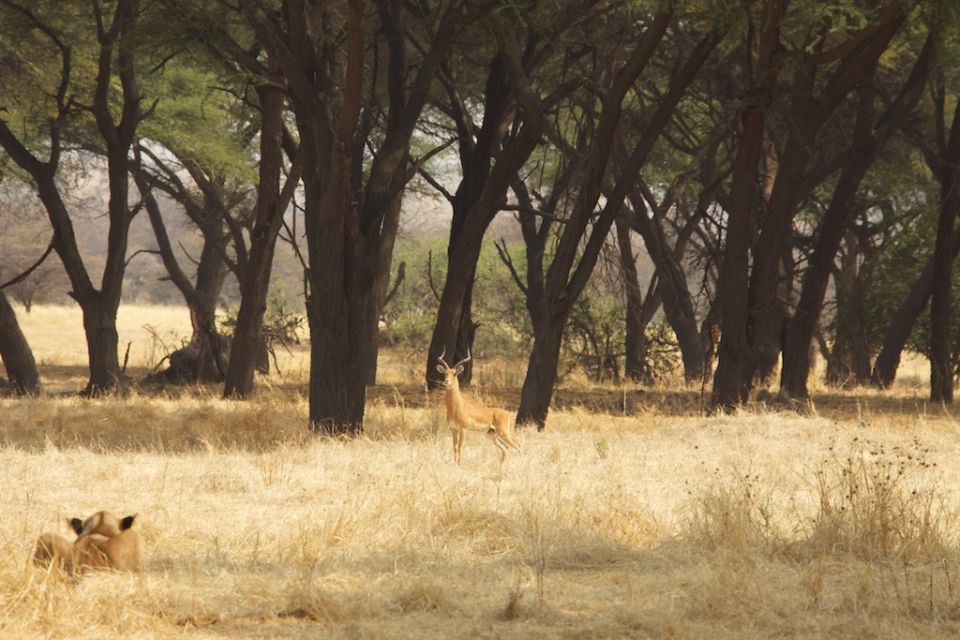 The best action was from a young lioness who suddenly got up and rushed at one of the others in play, before collapsing in some prime shade right on the banks of the river, where a cool breeze wafted past.
So we witnessed a "typical" day in the life of lions. Meanwhile we had plenty of time to comment on events throughout our safari, while sipping sodas and beer, and to observe the comings and goings of other wildlife throughout the afternoon. This included a pair of saddle-billed storks who couldn't seem to make up their mind which part of the river was best, so they flew back and forth a couple of times.  We also saw kudu, impala, zebra, giraffe, and elephant in their wanderings down to the water's edge for a drink.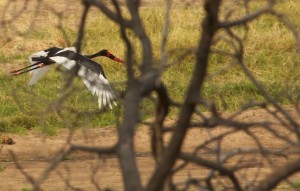 Perhaps as the dusk light enveloped us and we followed a herd of elephant back up to the bush, the lions may have begun to stir, stretch and prepare for an evening hunt?  It is just as likely that had we arrived at the same spot the following morning, there they would be, comfortable and relaxed in their shady corner, flicking the occasional ear to chase away a fly, and a little hungrier.
There are many myths and misconceptions about animals in the African wilds – that jackals are nasty scavengers, that ostriches bury their heads in the sand, that hyaenas can change sex at will, that elephants are scared of mice – but the one about lions being lazy does have an element of truth! On average they sleep 18 hours a day!
Justin