The Basque country in northern Spain envelops the western part of the Pyrenees range. The cool Atlantic Ocean to the north covers the land in a blanket of moist air. Most of the Basque country is lush and green. As you travel south of the Pyrenees you arrive at a plateau in between these and another smaller chain of mountain ridges, which are really the far southern edge of the Pyrenees. Step through these and you are overwhelmed by the brown, arid wide open spaces for which the Iberian Peninsula is renowned.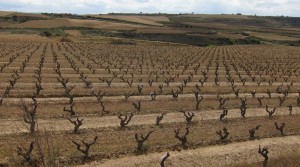 Most of this is so dry that it is only fit for hardy cereals or livestock, but this first part is bordered by the Ebro river, so both water and sunlight are abundant. It is the heartland of one of the wealthiest and most prestigious wine producing regions in Spain – Rioja.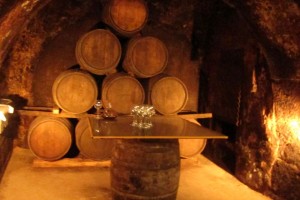 Here you can visit a myriad of wineries or "bodegas", some small family run operations where most of the production work is done by hand, and the wine is stored in oak barrels beneath the shop, and other state-of-the-art firms where you may first be impressed by the architecture of the winery, and later by the high tech equipment, the precision and care that is taken to produce the best wine. At the end of a fascinating tour we are rewarded when tasting a selection of their wines. Riojan reds are mainly made of the tempranillo grape, and the Viura grape predominates in the white Riojan wine selection.
If you stay in the luxurious and ava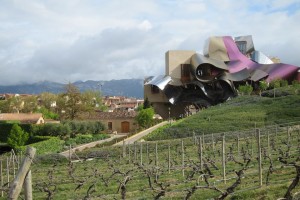 nt garde Marques de Riscal Hotel while here, you really will be blending wine and architecture!  This amazing hotel was designed by Frank Gehry, and the curves and blends of rose, mirror and gold both clash and waltz with the vines that surround it. If your day has been particularly tough, you may steam in the turkish bath, dream in the jacuzzi, lounge in the pool, or otherwise relax in the spa, proud of its exotic treatments and relaxing massages.
Justin