The rains in the southern Serengeti have been very erratic this year, causing the wildebeest herds to move in and out of the southern Serengeti in search of green grass and surface water.   As we drove into the Ndutu area from the north we encountered hundreds of thousands of gazelle but there was still no sign of the large herds of wildebeest. We were beginning to wonder if we would see any, as these animals move within a vast area.
The following morning, while on our early morning drive, we were rewarded with the sight of masses of wildebeest as they started moving into the southern plains from the north-west.   It is amazing that after many years it is still a spectacle that takes my breath away.
We sat on the edge of a herd in the open plains eating our picnic breakfast and watching the interaction between the newly-born calves and their mothers.
After breakfast we continued on our way, driving through the herds in search of predators.  Soon we were rewarded with sighting a female cheetah and her two one-year old male cubs.   They had just finished eating a young wildebeest calf, which was enough to satisfy the cubs but not the mother. The mother cheetah was very intent on looking around for something else to eat.
As we sat watching her, one of her young cubs approached us in a manner that indicated he had an unusual fascination with the vehicle.  I instructed the guests to sit quietly in the car.
The young cheetah moved to the back of the vehicle and then jumped onto the spare wheels at the back, and then onto the roof of the vehicle.   I slowly put my head through the top hatch and took some pictures of him as he began to chew the rubber fastening on the roof hatch.   He peeped into the vehicle periodically as if to make sure that we were watching him.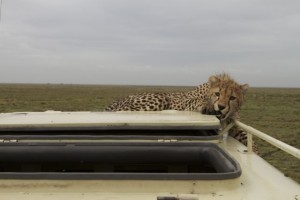 After a period of about fifteen minutes he tried to get down at the back of the vehicle but was unable to negotiate the steep descent, so he moved cautiously along the top of the vehicle on the side and then lay down on the hatch in the front of the vehicle for a minute or two, before jumping down onto the hood and then from there onto the ground!
We all felt privileged to have had such a unusual, wonderful and fun experience.  This may sound strange, but at no stage was the young cat's curiosity ever a threat to our safety.
Dave