Regular readers of our blog might find that the sightings mentioned in my article "Slim, Sleek, Slender and Spotted Sprinter" of March 2008 are either very rare or exaggerated.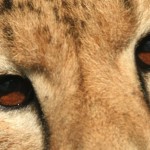 Well the cheetah sightings with Mathieson family that we enjoyed in December 2008 / January 2009 amounted to over 19 different cheetahs in six different groupings during a week in the Serengeti. This would seem to indicate that seeing so many cheetahs is somewhat characteristic of the Serengeti! This is especially true in the December – March time of year when we spend our time on the Serengeti Plains in three different administrative zones: the Serengetu National Park, Ngorongoro Conservation Area, and Piyaya Village area (bordering the other two). Of these three, we are allowed to go off-road in the latter two. That fact accounts for many of our very close sightings and relaxed time spent watching their behaviour.
What is it like watching cheetahs? Isn't one group much like another? Well here is a comment written after this safari by Katie Mathieson: " You have no idea how awesome this trip was – well if you read the previous comments from my family you probably have an idea of just how cool this was for us. I promise I will always remember, and even though I picked on that poor mother cheetah for taking so long to find food, it is one of my favorite memories. I am so glad we stuck with that cheetah.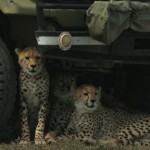 By the end I kinda felt like I knew her well, and it was great to come back and see she got some food. Most guides wouldn't have stuck with one animal for so long, but even though I complained I'm very glad we did. Amazing trip, thanks again, and hopefully some day I'll be able to come back."
Katie is writing about this cheetah mother we came across with her three 5-6 month old very hungry cubs. We found her in the morning, and in a short space of time it looked like she was eager to kill, so we moved some distance away (200-400m) to give her more space to hunt. However she either hunted upwind, or seemed to walk in directions where there were no Thomson's gazelles (cheetah dinners). Then several other vehicles arrived, and moved back and forth between her and some other (2 month old) cheetahs that Dave (guide) and Amiri (driver) had spotted earlier. As a result we left her and her hungry cubs, feeling sorry for them, and hoping they would have success soon.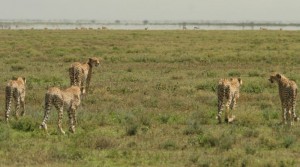 We then joined Ole Kirimbai who had found a very habituated family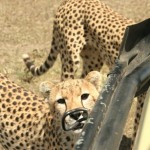 of a mother and her 4 sub-adult (14-16 month old) cubs. They must have been filmed by a National Geographic crew, as they were totally relaxed, lay down under Ole's car for shade, and approached my car, touching the bull bar and peering into my camera lens! They also knew how to pose! They then left our vehicles and and we rejoined  the hungry female and her cubs. Meanwhile Ole Kirmbai called us on the radio to say the  "National Geographic 5"  had proceeded to hunt, and then he and his guests saw the whole hunt unfold! While having lunch in camp we compared sightings and heard his account of the hunt.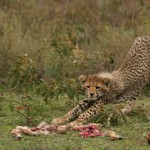 I set out again with Katie to find our poor mother and cubs. Luckily we found them with a recently killed Grant's gazelle fawn, which they proceeded to play with! While we were sad about the gazelle, we were delighted that "our" cheetah family had found a meal!
Justin