A recent safari in Mana Pools National Park in northern Zimbabwe, gave us amazing opportunities to spend some quality time with some old friends of mine.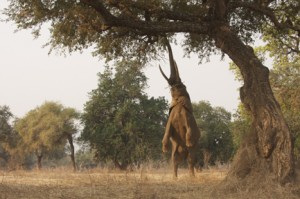 There are few places in Africa where you can go and see a huge elephant bull standing up on his back legs in order to reach branches laden with succulent leaves. Mana Pools is one of these.  If you are here at the right time of the year and know which of the local residents have learned this amazing behaviour, you might follow one (on foot) and be lucky enough to see it.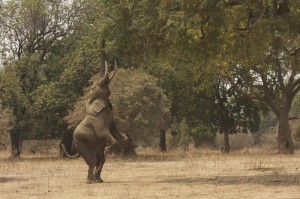 Very few bulls have mastered this skill. When you consider their size and weight it is not surprising!  This behaviour seems to be learned, and those bulls that do learn to do this must have excellent balance to avoid falling and injuring themselves.Usually they practice this "circus trick" in the dry season before the acacia pods drop to the ground. Food is scarce then, and such an attractive tasty meal in such difficult times is a good incentive to practice their balancing trick.
Often the crack of a breaking branch will attract an entourage of followers!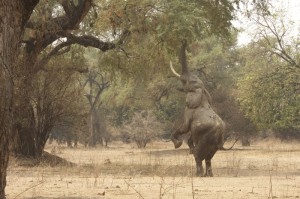 Dave