In October I guided our old family friend, David Fettes from England, on his annual safari to Mana Pools in Northern Zimbabwe. We caught up  with some old buddies – elephant bulls that David and I have spent quality time with over the last five years: "Slot Ear", my all time favorite elephant bull and "Boswell", the big old bull that often stands on his back legs to reach leaves and branches higher than other bulls can reach.
David had suggested that Carol and the kids come up to Mana to join us on safari. So being a person who won't let school get in the way of a good education, I took the kids out of school, and Carol and our two kids Jordie, who is almost six, and Mitch who is almost four, came out and spent four days with us in Mana.
The early mornings were taken up with David and I looking for the perfect shot, while the light was at it's best… then as the day rolled on we returned to camp for a hearty breakfast, before going on a game drive with the family. We saw elephant, lion and buffalo, greater kudu, impala, zebra and baboon, as well as many other critters and things of interest. We looked at animal tracks and droppings on the ground (Mitch even carried a shirt full of impala droppings around to help educate the uneducated). We studied bones, skulls and seeds, caught a snake and several ant-lions, as well as studied birds. The large carmine bee-eater colony in front of the camp was as fascinating as the green malkhoa (coucal), which hung around the thickets in camp (a new record for Mana Pools).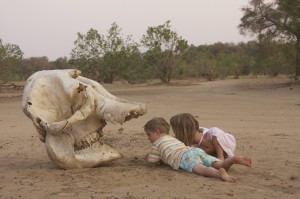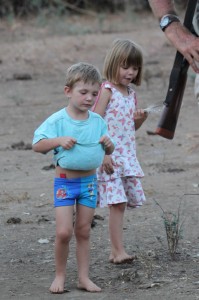 After mid morning the temperatures started to soar and on a couple of days it reached 49 degrees Celsius (120 degrees Fahrenheit)  – so armed with my trusty Smith and Wesson .44 magnum, we canoed out to a flat sandbar in the Zambezi River, and wallowed like hippo's in the shallow water. This was the only way to escape the heat, and needless to say was the highlight of the kids' day!
After four days we were all sad to leave Mana Pools and to drive back to Harare, but we left richer for the time we had spent together as a family, for what we had learned and experienced, and for having spent quality time in nature…. Do yourself a favour, take your kids on safari!
Dave