When talking to people about climbing Mount Kilimanjaro, one of the first questions I am asked is if they are fit enough.
In actual fact how you are able to acclimatise is a far more important factor, and unless you have been to high altitudes often, it is not possible to know that beforehand. The best "training" you could do would be to stay at 8,000 ft asl (above mean sea level) for a week immediately before the climb.
Obviously being fit and healthy is a plus, but I have had marathon runners climb Kilimanjaro and say it was the hardest thing they ever did, and at the same time had a large fellow who wasn't used to strenuous exercise, and who plodded up at the same steady slow pace the whole way and thought it was delightful! Unless you have a lot of time, or happen to live in the Rockies or some other high area, you might have to resort to time spent in the gym coupled with pure determination and fly to Tanzania to attempt the climb anyway!
That is what two friends from the New York area, Carolyn and Mary Ellen, did. While keen hikers, the only experience they had had of a hiking expedition at altitude was trekking to Machu Picchu, which both had done, although on separate occasions. When they decided to climb Mt Kilimanjaro they were introduced to me by their travel advisor Lisa Lindblad.
Since the key to Kilimanjaro is really acclimatisation, our climbs usually begin with a day in Arusha National Park, where we hike to about 7,000 ft asl. This is stunningly beautiful, replete with varied scenery and different habitats, and is energizing after the long flight to Africa from the USA. This time we saw lots of wildlife including black & white colobus monkeys, giraffe, bushbuck, waterbuck, red duiker, olive baboons, blue monkeys, zebra, warthog and Cape buffalo.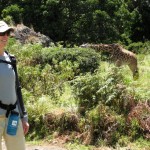 Birds were abundant, but the most exciting sighting for me was the pair of bar-tailed trogons we saw. I have only seen a handful of these colourful birds in 20 years guiding! Then Carolyn began to get a cough, which she thought might have been due to the dust kicked up on the dirt tracks in the park, or from pollen.
The following day we began the 9 day climb up Mount Kilmanjaro, hiking from the trailhead at 8,500 feet asl. We passed through rich shades of green, tall podocarpus (African Yellow-wood) trees, massive giant Junipers, St John's Wort and distinctive Hagenia trees, with their flower sprays reminiscent of bunches of grapes.
Over the next few days we hiked through heathland, moorland and high desert, enjoying the breath-taking vistas that seemed to be more amazing as we climbed. Mary Ellen would end each day with sessions in the Mess tent doing yoga and meditating, and Carolyn would relax and bravely deal with her cough which had become very persistent, and most likely was now complicated by being at altitude. This made rhythmic breathing, pacing, and acclimatising harder for her.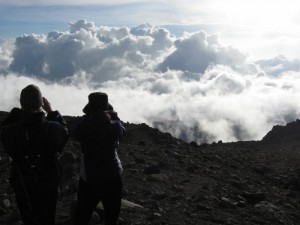 The one other factor that seems to influence success and enjoyment when doing a big challenge like Kilimanjaro is camaraderie and the ability to help each other and get on with the group. Mary Ellen and Carolyn excelled in these skills! They had decided that one of the most important criteria to enjoying the climb was to wear the right clothes. This meant asking first me (trip planner and guide), then Wilbard (the head mountain guide), then MC (Msafiri – the assistant mountain guide) what they should wear the next day! This included requests for the weather forecast,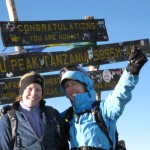 and whether conditions would be different from today, and finally how many layers of special Capelene and Goretex mixes they should wear. "Should I have the Goretex outer shell or the poncho today?" "Should I wear the lycra or the thick fleece pants?" "Should I wear the glove liners or take the thick heavy duty gloves?" The funniest thing is that having received three lots of (generally similar) advice they would then head to their tent, where I could hear them continuing the same conversation amongst themselves there! Soon when they asked me what they should wear, I would reply " I think the pink jacket!" or "What about the blue pants?"
Nevertheless it seems that the benefit they received from the bonding experience they had with these conversations helped them on the climb. Mary Ellen never wavered, even scaling Lava Tower, and admired the views the whole way to the summit. Once there she encountered some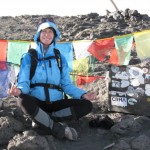 Buddhist prayer flags, so she had an opportunity to sit and contemplate life at 19,000 feet! Carolyn doggedly and persistently plodded on, no matter if she coughed or was tired. She was rewarded when having scaled the Western Breach, and had a nap in her steaming tent in the Crater camp (the sun was shining at 18,500 feet), she climbed the scree to the summit to witness astounding views in the afternoon light, bordered by towering clouds of varying shades of blue and grey, tinged with brilliant orange. Success was exhilarating, as she charged back down to camp before the oncoming snow storm in no time!
Typical of mountains, what had been a dusty desert-like plain that afternoon, was the following morning an icy, Antarctic-like snow-filled, and windswept mountaintop! The wonderful thing about a volcano like Kiliman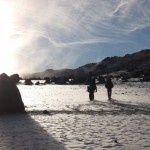 jaro is it can be easy and quick to descend.
We left the windy wasteland at Stella Point (19,000 ft asl) on the Crater rim at 9:00am, and by 11:30am were striding through Barafu Camp 4,000 ft lower! We marched onward as the snow flakes began to turn to hail and then rain, arriving at Mweka camp (10,000 ft asl) by 3pm!
Justin