The Western Breach Route on Mount Kilimanjaro was closed by Kilimanjaro National Park authorities following a rock fall which killed three climbers and injured others on 4th January 2006.
Since then the park authorities have conducted several reconnaissance trips to the Western Breach to determine if and how the route might be re-opened.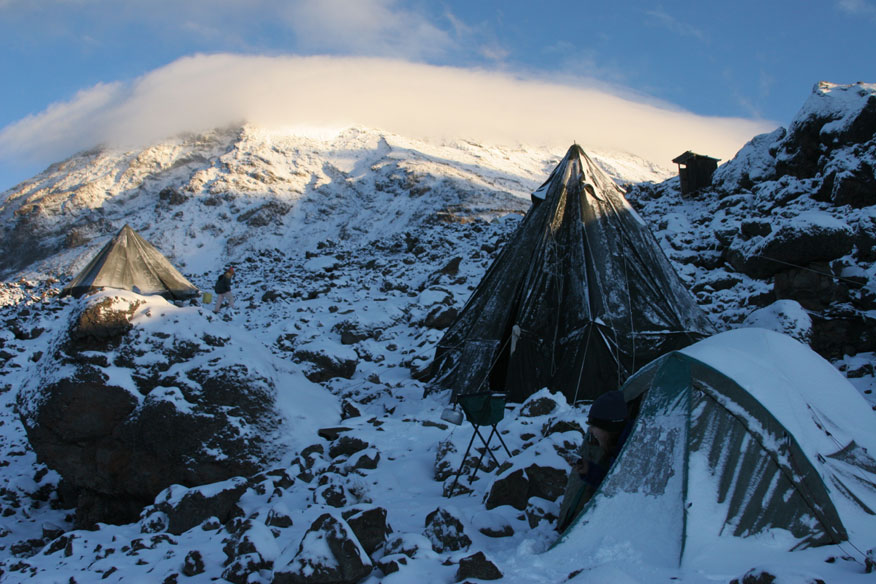 To date this route is still closed. We are hopeful that sometime soon it will be re-opened or an alternative will be found to the status quo where everyone beginning a climb from the south and west (Umbwe, Machame, Lemosho and Londrossi) must climb Barranco Wall, and hike up the Barafu Ascent route to Stella Point. Overcrowding naturally effects the risk levels of climbers on the mountain, and currently the Barranco Wall from 7-11 am is very busy.
While there is possibly an increased risk of rockfall on the Western Breach since glacial melt is continuing, this risk is minimal if we leave Arrow Glacier camp early. Accidents such as the 4th January 2006 one on big mountains are inevitable, sadly occuring from time to time. While climbers and their guides endeavour to minimize these risks, the only sure way to totally avoid them is not to climb the mountain, and in view of the fact that over 35,000 climbers attempt the mountain each year, the risk level of a serious accident is comparitively low.
This year our itineraries that anticipated a Western Breach ascent will involve descending into the stunning Barranco Valley after an overnight stay at Lava Tower. This way we plan to hike in this beautiful valley in the morning while the climbers who camped at

Barranco overnight are climbing the wall. We then get to the bottom of the Barranco Wall at about 11 am, hike up the wall when it is quiet, and have a picnic lunch between the ridge above the Wall and Karanga Valley. We spend that night at Karanga Campsite, and the following night at Barafu (or higher if allowed). From there we head for the summit or an overnight in Kibo Crater, summiting either that afternoon or the following morning, depending on the length of the itinerary.
As soon as there is news on alternatives to the Barafu-Stella Point and Marangu-Gillman's Point routes up the Kibo massif we will post an upddate. In the meantime, we can enjoy morning views hiking through the Barranco Valley, and the social interraction of fellow climbers from there to the summit, as well as the fresh air and the challenge!
Justin