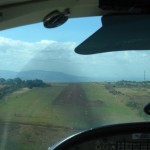 Often in North America, adult "kids" live miles from their parents, dispersed across the continent usually in order to satisfy specific education requirements or better job opportunities.
I recently hosted the Senft family from Vancouver, Canada on safari in Tanzania, and they were no exception. In fact Jeannie and Rod's eldest son Riley and his partner Sarah live half way across the Canadian Prairies. They live so far from Riley's parents that it was easiest for them to join the rest of the family at the start of their African safari, not in Vancouver, or Toronto, or even London, but in the transit area of Jomo Kenyatta International Airport in Nairobi, Kenya! It was a great way for the family to begin their safari. Of course those who had just arrived had been on two marathon flights. There was a lot of excitement in the transit area wh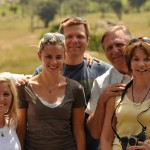 en we met, exchanging news and travel accounts, and soon afterward we were on a private air charter enjoying magnificent views of Mount Kilimanjaro out of the port windows!
Our flights took us to a dirt airstrip, perched right on the top of the Great Rift Valley, overlooking Lake Manyara, which is only 15 minutes drive from the entrance of Lake Manyara National Park, a world heritage site. This is a fascinating melange of acacia woodland, jungly groundwater forest, open grasslands, rugged and rocky cliffs, and a massive extremely shallow lake.
Soon conversations in the Land Cruiser involved the new environment – the wildlife, people and places.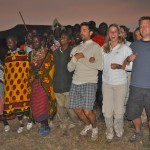 We spoke of the difference between the social makeup of antelopes, such as impala and dik-dik. Impalas spend much of the year divided into bachelor groups and territorial males, who are busy herding their uncooperative females. In the beginning everyone was immersed in learning these, and it wasn't long before Derek called out "impala – bachelors", upon seeing a herd in the acacia woodland. In the same habitat, we saw dik diks, and we talked about how these territorial tiny antelope, no bigger than a hare, pair up for life.
A short two weeks later we are on a white sandy beach, on a private island off Zanzibar, sipping cocktails, and Lauren is d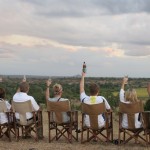 ressed in a colourful khanga (a Swahili sarong commonly worn by women throughout East Africa). We are laughing, and recounting some of the many things that have happened. My guests have sensed a different, ancient world, explored the infinite wonders of nature, had a glimpse of lifestyles of people they might have thought no longer existed, such as the nomadic Maasai whose lives are still centred on cattle, and I feel privileged to be able to help them experience this.
As the sun sets over the indigo Indian Ocean, the chatter stops. Waves rhythmically lap in front of us. Time seems to have paused for a bit. Although silent, we are still smiling.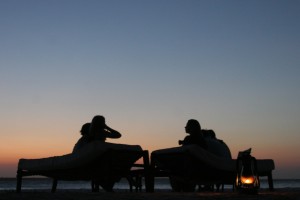 Photo credits – Derek Senft, Justin Bell, Hamza