It is now the "green season" – that popular time to be on safari between the short rains in November and the long rains in April.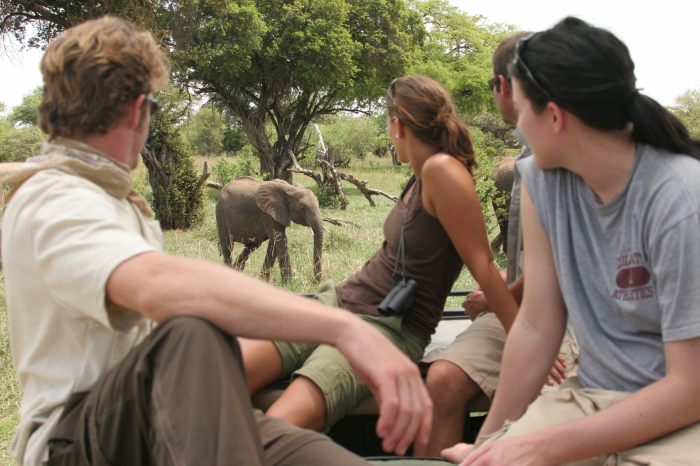 My first safari this green season was over Christmas and New Year. I was w

ith a wonderful extended family from various places between Alaska, Washington and Maryland who were keen to hike, adventure and who loved meeting and getting to know Tanzanians. When I look back on it we saw an astounding amount of wildlife, and had lots of fun.
We first camped in our mobile tented camp in Tarangire National Park witnessing, among other things, a male baboon eating a dik-dik he had killed, and a bull elephant in musth who rubbed his trunk against my Land-Cruiser! While there some of us hiked to a lighter weight fly camp. On the hike we got quite close to a herd of Cape buffalo, saw both less

er and greater kudu (neither of which are common there), and a black-necked spitting cobra which slithered into a nondescript hole. Our dinner on Christmas Eve was under the stars, followed by an impromptu play, and then we partied into the night. As we were on our way out of the park on Christmas Day, we had a fantastic view of ground hornbills preparing a nest in a baobab tree.
At Ngorongoro Crater we saw so much, but the highlights for me were seeing a lioness chase a zebra foal, and watching a rhino amble in front of the various shades of green and grey made up by the backdrop of the slopes of the Crater. One of the cars in our group saw five different cat species that day – lion, cheetah, leopard, African wildcat and serval!

During the chase by the lioness, the mother zebra maintained herself precisely between the lioness and her foal. Being on her own, the lioness must have decided the mother would be too much work, so both got away. Just then a huge male lion appeared out of a low patch of Datura scrub, saw that she had been unsuccessful, and collapsed back into the weed. However we then noticed another four lions in the same patch!

In the Serengeti the highlights were our stays in the two first camps – Nduara and the fly camp, mainly because they were situated outside any national park, so we could interact with the Maasai tribesmen, go for night drives and walks, as well as game drive. We saw several different cheetahs there.
On one night drive we saw lots of spring hares, then hyaenas at their den with cubs, then we followed them on a hunt, then saw them trying to catch a zorilla (African skunk-like mammal), then we came across a mother cheetah sleeping with her cubs (we quickly left her, as we didn't want her to have to move, especially so near to hyaenas), then two different sightings of African

wildcats, then two different sightings of serval cats, and just before arriving back in camp, bat-eared foxes sniffing out dung-beetles and termites!
As we left Nduara camp for the fly camp we saw an aardwolf out amongst the herds of wildebeest and zebra, looking for harvester termites! The scenery in the fly camp was truly unbeatable, where the Maasai sacred mountain and active volcano Ol Donyo Lengai was visible.

Our last camp was our mobile camp and crew from Tarangire, and here while it was much busier with other tourist camps, being near Lake Ndutu, we saw excellent wildlife. Of special note was a unique albino Eurasian roller, lines of wildebeest moving south due to the recent wind and dust that had developed over the last two days, a leopard skulking near camp, and some of us saw lions hunting again.
We had seen so much wildlife on our safari that we actually relaxed quite a bit in camp here, and the crew produced a fabulous cake, beaut

ifully decorated on New Year's Eve, and began the evening with drums, dance and music introducing the cake to our safari grandmother and matriarch, Betty, who got up and danced with wild abandon! Our celebration went on until after midnight, and I am sure we scared any lions that were in the vicinity.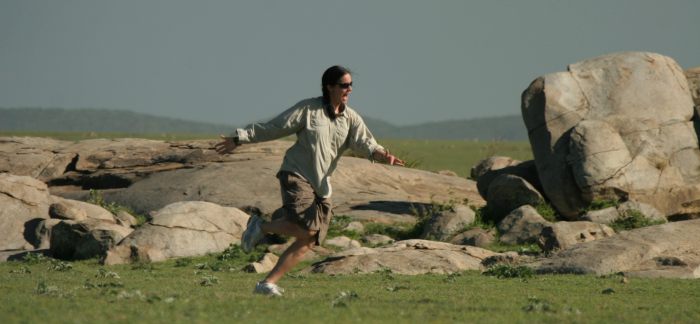 Heri ya mwaka mpya! (Swahili) – Happy New Year!
Justin