Why do people climb Africa's highest mountain, the summit of which is at 19,340 feet / 5,895 metres asl (above mean sea level) and has half the available oxygen as any point at sea level?
Firstly it is a journey on foot. This is significant, and is one of the reasons I still guide Kilimanjaro climbs.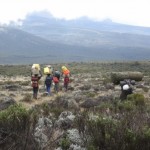 It means leaving the 4 wheel drive vehicle, the hustle, bustle and noise, and the cell phones behind, and going from the starting place in the oxygen dense and steamy forest, to a point of focus (the lunar-like landscapes of the summit and the aim), and onward to the final point of departure, again in the forest, and once again rejoining the hustle and bustle of "civilisation", but this time 50 miles / 80 kilometres east of the starting point.
A journey on foot is a very special experience to me, living in our modern age, never far from artificial noise and our machines. It is a journey into the "soul" (our nature of being), an opportunity to examine and experience the essence of life, in a way that is so part of human nature, as to take us back to primeval times. We walked out of the Rift Valley and then within and out of Africa (1 million years ago, and again 100,000 years ago). My ancestors walked across Asia, and then later into Europe, replacing our maligned cousin Neanderthal. Today, when we can fly across the globe in 12 hours, it is hard to imagine, but until 200 years ago we pretty much walked everywhere. Nowadays we are so dependent on mechanical, fast transport and so used to noise, that we forget how it was for millenia. One of the best ways to try and contemplate what it was like for most of our evolutionary history is to take a journey on foot.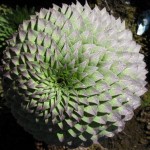 Kilimanjaro is an exceptional hike because the summit zone is so high, and because it is in the tropics. This means that we begin in steamy verdant forest. We pass through the grey-green shades of the heath zone, which as we gain altitude gets smaller. Then we meander into moorland where grasses and unusual East African moorland plants have adapted to hot summer days and freezing winter nights. We continue higher still into high desert, where all that can survive are coarse grasses, and small stunted everlastings, groundsels, and other plants (some of which are related to other higher latitude plants).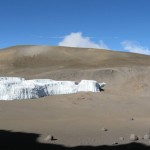 The climax is when we enter the summit zone (above 17,000 feet / 5,000 metres asl) where nothing grows, except a handful of astounding specimens clutching to fumaroles and volcanic vents, or other micro-climates. Here it feels like we are on the Moon or Mars (having never been to either I have to admit that this is where I have to resort to my imagination, which is often vivid at these altitudes!). Not only is the scenery mind-boggling, and the landscape a dusty, dry and icy desert, but also I have to make miniature paces, in timing with massive oxygen-sucking pants, in order to progress without getting exhausted.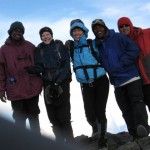 Added to all of these reasons for climbing is the reward for all the effort breathing, hiking and acclimatising which is the sheer achievement of reaching the highest point of the second largest continent!
The journey down is a different adventure. It is much quicker, as we lose 9,000 feet / 2,700 metres in 6 hours! During the ascent most of our hiking days were short, and we arrived in camp at noon, in order to limit altitude gain, and to aid acclimatisation. On the descent this is no longer a concern , and finally after 7 days, we are walking long distances. It is also a more social experience, busier, less tranquil, but often cheerful and light-hearted. Anyone climbing via the Shira, Machame or Umbwe routes (more than half the total number of climbers) must descend via the Mweka route.
We climbed the Kibo massif (the ice-clad central bloc of Kilimanjaro) via the less travelled Shira route and through the legendary and dramatic Western Breach. Since a rockfall in January 2006, this route was closed for over a year, and then after re-opening has had little traffic compared to previous levels (on the day of the rockfall there were over 150 climbers and porters on the slope). There was only one other climber on this route when we were there, whereas the alternative route climbing the Barranco wall, and staying at Barafu Hut and summiting from midnight must have had well over 300 climbers (so if you add porters there could have been over a 1500 people a day hiking to Barafu)! When we reached the summit in the afternoon, we were the only people there. The following morning when the folks summiting at night from Barafu Hut (Machame Route) and Kibo Hut (Marangu Route) arrived, they had to wait in line to take photographs.
On the way down we experience the change in vegetation in reverse, pause to greet other climbers descending, ask them how their climb was, and describe ours, say "pole" (I empathize) to the porters, and chat gaily to our fellow climbers. We also enjoy views of the opposite side of the mountain, entirely different to those we marveled at as we ascended.
Eventually we see a mass of people at the trailhead, buses, land-rovers, and we hear porters cheering. Young lads come running towards us to sell t-shirts, stickers, beer, or to offer their services scrubbing our hiking boots. Before long our cell-p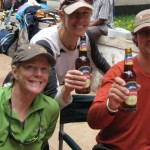 hones bleep reminders of the arrival of messages in our inbox, we phone our family and friends to tell them of our expereinces. Having received our certificates, we then sit in the car to travel to our hotel, weaving in and out of traffic. At the bottlenecks near roundabouts we jostle with newspaper vendors, who every time we refuse, produce the front page of another international newspaper.
Do you wonder why anyone would ask why you want to climb Kilimanjaro?
Admittedly while sipping a cool beer, sliding into a hot foamy tub, and snuggling into a bed made with crisp linen sheets, you might agree that there are some advantages to "civilisation"!
Justin