The GR 10 Trans Pyrenean Way trail involved interminable steep descents and climbs through dense chestnut and holm oak forests. We had seen nobody since we left the highway and border town of Perthus.
The summer heat was so int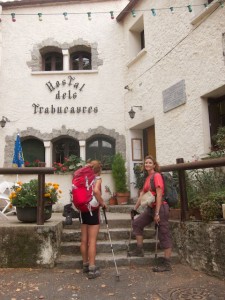 ense that I think even the crickets were quiet. Occasionally there was an open patch in the woodland, and a concrete post with a number carved on it, and sometimes a gate beside the dirt track. The sign on the far side of the fence would be in Catalan, not French, a clear indication to us that that was Spain, and that we were literally on the border.
Today, this line marks only a division within the European Union. While the cost of basic goods in Spain are still cheaper than in France, buyers may drive to supermarkets and shopping centres in towns on the border. They buy what they want in full view, there being no threat from customs, so the border line in the more remote areas has become little trafficked, and barely patrolled.
Once these woods and rugged hills were busier, and provided a livelihood for bands of men on both sides of the border, smuggling contraband, promising high profit margins, but also carrying the stress of the uncertainty and risks involved. The border brigands who were armed with trabucs or blunderbusses were once known as Trabucayres.
That evening we stayed in the Hostal de Trabucayres in the remote and secluded village of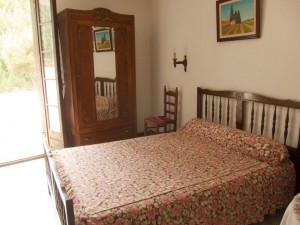 Las Illas, hidden at the bottom of a valley and surrounded by steep hills.  This family-run pension, steeped in unwritten history, seemed to have changed little over the years. We enjoyed a delicious dinner made of good fresh local produce, and slept in rooms with a balcony and old fashioned furnishings.
A sign at the entrance to the Hostal de Trabucayres declares that Manuel Azaña, the President of the Spanish Republic, Lluís Companys, President of Catalonia, and José Aguirre, lehendakari or President of the Basque Autonomous Region (Euzkadi) all were lodged here in the winter months of January and February 1939. This was during the "Retirada", after the defeat of the Spanish Republic at the end of the Civil War,  when half a million refugees crossed this frontier. This remains one of the largest emigrations in European history.
Then many smugglers be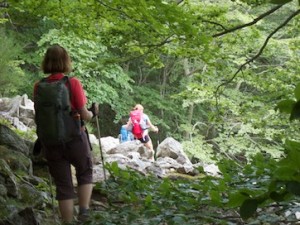 came guides, helping refugees from Spain flee northwards. Soon afterwards their skills were required again, this time during the Second World War, as Allied soldiers, Jews, and others fled the Nazis southwards into Spain.
As I hiked through this rugged and thickly forested mountainous countryside, I could only marvel at how fit and tough the guides must have been, and how perfect an environment this was for them to complete their tasks without detection.
Justin