Mobile tented camps, due to their not being permanent, have very little impact on the wildlife around them. In this case we become the visitors.
I had taken Nick and Moira Bienstock on their honeymoon sixteen years ago, and now thanks to the modern age of the internet, they were able to locate my whereabouts. They asked us to take them on safari again, this time with their four children and some friends.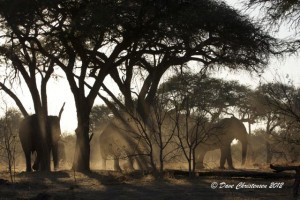 A custom itinerary in Botswana was built, which included some time in a mobile-tented camp. This proved to be a highlight for some members of the party. Large elephant bulls passed through the camp daily, and would shake the huge camel thorn trees to get the nutritious pods to fall to the ground. They then collected the pods off the ground and the tent roofs, and ate them, much like the way a kid eats popcorn. This interaction with these magnificent beasts truly made for an experience that no one in the group would ever forget.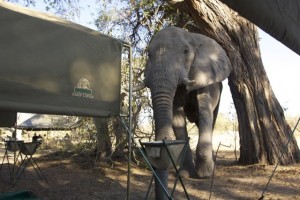 It made everyone realize that we were living amongst the wildlife, and we didn't necessarily have to go out looking for it….although when we did go out we were always rewarded with something special, such as wild dogs, serval, leopard, buffalo, various antelope species or simply more of my favourite –  elephants.
It's great being on safari!
Dave