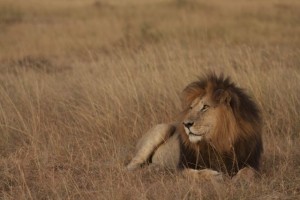 It is a fallacy that lionesses do all the hunting and that male lions do not hunt. This probably comes from the fact that the females do most of the hunting due to their smaller size, and lacking a mane makes them less conspicuous and therefore it is easier for them to stalk up to prey.
Male lions have the advantage of size and physical strength, and this is often needed when hunting larger animals, especially animals like buffalo, hippo or young elephant. It generally requires three or four lionesses to kill a buffalo, but a male lion can kill a buffalo on its own.
On a recent safari to the Masai Mara (Kenya), we arrived the day after Notch and his boys had killed an adult hippo. The first two days the pride was still struggling to get through the thick skin of the hippo. Although they were slowly eating their way in, they were thin and hungry. It was almost three days before they had managed to really open up the carcass and get to the meat.  By the end of the third day, these lions had full bellies, and all that remained of the carcass was the bare skull, spinal column, rib cage and the skin, stretched out like a picnic blanket.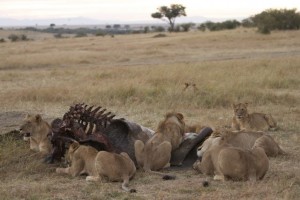 After the lions had reduced the carcass to the bare minimum, the scraps on the bones were gleaned by vultures. Hyaenas, who had been patiently waiting for a chance to get involved, came in and started working on the smaller bones like the ribs, and eating the skin while it was still soft.