This is an update on my previous post, the Way.
The day after my son Laurence and I had biked to the French border, my nephew Christopher joined our party and we set off from our Pyrenean village to Santiago de Compostela: the ancient cathedral town and legendary resting place of James the Apostle; and beyond to Finsiterre -Land's End.

In some places along the Camino we encountered stones arranged in spirals like ancient spiritual signs of the sun, or a representation of the journey of life, repeating itself with each turn, and also coiling towards an ultimate goal in the center. On our journey we too settled in to a daily routine of waking early, biking and pausing for various meals along the way, arriving in a village tired and ready for bed – only to repeat it the next day. We also had our ultimate goal.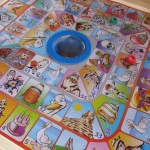 The reason that pilgrims make the spirals of stones is not clear. There is a popular Spanish board game called Oca that is also arranged in a spiral, somewhat similar to the English "Snakes and Ladders", where different squares that you land on offer challenges or abrupt jumps forwards or backwards. The first to get to the center of the board is the winner. Our journey, like playing Oca or being in the spiral, was made of days of pedalling, and few minor mishaps and adventures… beginning on the first day.

I had borrowed Laurence's bike on the way to the border and had noticed that his gears were in a poor state, so I spent much of our departure day in our village fixing them. We finally left at 5pm! 60 kilometers later, at 9pm, we arrived at a pilgrim's hostel, hidden in the midst of a ruined hillside village, minutes before a massive storm enveloped us.

The most dramatic event was when the frame on my bike snapped below the seat, while I was riding at full speed on a level tarmac highway. One second I was biking full bore, and the next I sailed head over heels and scraped to a halt on the blacktop! Luckily I got away with a couple of minor scrapes, and equally luckily we were only 15 kilometers away from one of the very few towns in the arid state of Leon with a bike workshop. The boys shared my load, and I biked the 15km chopper-style (since I had no seat) to the remote town of Carrión de los Condes, where my bike was pronounced 'beyond repair'! I bought a new bike…. and our journey continued. I appreciated modern plastic and technology that day!

I had heard that sections of the Camino were beside a highway. A pleasant surprise was that parts of the trail were beautifully wild. Our first few days in Aragón and areas of Navarre were rewarded with stunning mountainous underpopulated countryside, mostly on remote hiking trails. These trails necessitated some skilled mountain bike maneuvers to stay on the bike. Later sections of the wide, open windy plains of Leon reminded me of the African savanna, and the boys likened the lush wooded areas of Galicia to the elven forests in "Lord of the Rings".

There were very few bikers, and I sometimes had the sensation that we were a bit like the snow-boarders on the ski runs, zooming through, perhaps hailing the hikers with the customary greeting  of "Buen Camino, Peregrino!", and leaving them in a cloud of dust as we passed. We unwittingly tested their patience and increased the suffering of any penitents.

Sometimes we passed pebbles placed in a row or piled into a cairn. Supposedly some are brought from home and placed along the way. Others are painted with symbols or with a message to a friend.

For the walkers it was a social adventure, as they could modify their hiking speed to either accompany someone, or get away from them! If they stayed in a different town to someone they had met, invariably in a day or two they would coincide, and would be able to catch up on the happenings.

We mostly stayed in "albergues" – hostels mainly for pilgrims, where we slept in dormitories, occasionally accommodating as many as 40 people in one room. I went to boarding school in Africa from the age of 6, so this brought back familiar memories for me, but was an entirely new experience for Laurence and Christopher. They were last out of bed, and always gave me a morning report on the snorers. These were great places for us to meet and chat to the hikers.

[album id=6 template=extend]

All three of us completed the journey by mountain bike to Santiago and beyond to Fisterra (Finisterre), overlooking the Atlantic Ocean, which in Roman times was presumed the most western edge of the World. We covered 1033 kilometers in 15 days, including a rest day in Santiago. The bulk of the distance, from our village to Santiago (845 kilometers) we biked in 11 days.

I was surprised how much the boys and I had enjoyed the ride. Later, once we were back at home in the Pyrenees, in our daily domestic routine again, Laurence said to me that he missed the days on the road – waking (relatively) early, riding for hours in a day, getting fitter and tougher, in a routine, and always with an ultimate goal – to get to Santiago and on to the Atlantic Ocean.

Although the Camino may be likened to a game of Oca, it is different in one big way – there is no "winner". Almost anyone determined enough hiking the trail will make their goal, but for each the journey is different. Perhaps the stone spirals are not so mysterious after all.

More photos on our Facebook page.

Justin