In December we went on a short family safari in the Serengeti.
So many things happen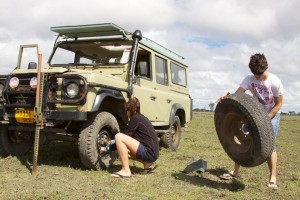 ed, but these images stand out most in my mind.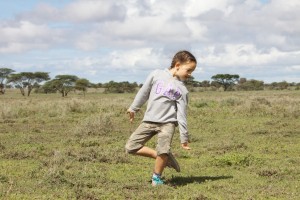 One day we had a puncture (flat), and Laurence (16) and Alana (13) fixed it, loosening the bolts, jacking up the Land-Rover, heaving the spare off its mount, and switching it with the flat one. Meanwhile our youngest daughter Ollie (6) practiced ballet movements on the Plains!
Another morning we encountered a poor young elephant bull who had lost part of his trunk in a snare, and was managing very well, but had to bend down more than most elephants, and used his tusks more often. We followed him a bit, until we arrived at a sausage tree full of lions. Typically, all were asleep when we arrived.
We spent a while watching both the bull elephant on one side, and the lions in the tree on the other side of the car. The adult lionesses hardly m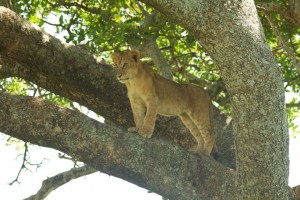 oved while we were there, slumped over the branches, but when the cubs realized there was this enormous bull elephant approaching their tree, they woke with a start and kept a very good eye on him. After a while the bull ambled onward, leaving the lions to their tree, and we left to see what other sights of the African bush would find us.