I was with Peter and Carol Mathieson and their four kids Katie, Daniel, Michael and Jack, from Pittsburg, Pennsylvania in the USA, and who were on safari with their family – grandma (given the honorary nickname of "bibi" – Swahili for grandma), cousins, uncles and aunts (some who live in California).
We had turned off from the "track" in the middle of the Serengeti Plains. The rest of the Mathieson (and Conver) clan had continued onward to our last camp. We had been on safari for ten days, mostly staying in luxury mobile tented camps, characterized by spacious tents complete with en-suite shower and loo.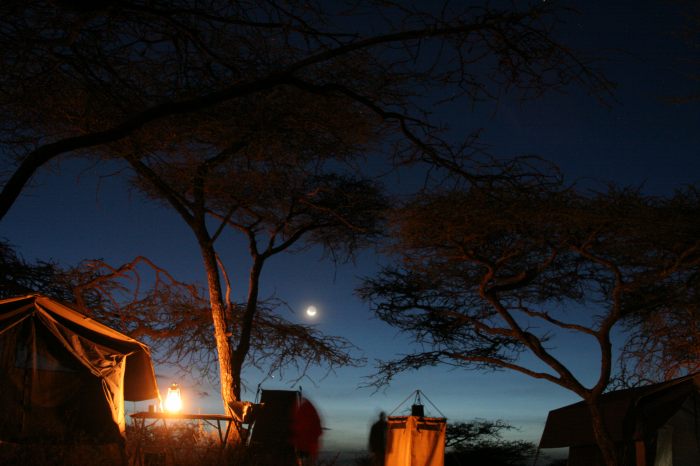 This time we stayed a night in a "fly camp", a lightweight more mobile camp. Today it was placed in an area inhabited by Maasai tribespeople. This provided us with the opportunity to spend time among these colorful pastoral folk, comfortable surviving in dry harsh environments.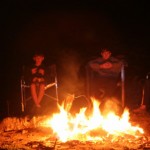 We arrived at dusk. That evening we discussed the stars, looked for Andromeda and Jupiter's moons, and then relaxed around the camp fire where we discussed how the seasons happen, using the campfire to represent the sun, and a soccer ball for Earth.
In the fly camp we slept on bedrolls laid on the bottom of the tent, and looked out through the mosquito-proof mesh roof at the stars (There is a fly sheet to roll down if it rains).
After breakfast we hiked for about 3 hours to Piyaya village, where it was market day. The village comprises as series of ramshackle huts, most with a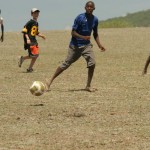 tiny shop window towards the dusty "street" offering everything from blankets to face cream!
We passed through the village and arrived at the market square, where the Maasai tribesmen congregate to sell their livestock, so that they can go and buy goods with cash. Unfortunately we only saw about 4 sheep at the market! I commented that it must be the world financial crisis (The Maasai couldn't be more removed from the world financial crisis, and probably are unaware that it has happened)!
Instead we began chatting to some village children who had arrived to see what these "wazungu" (foreigners) were up to. Fairly soon they began mentioning world soccer champions' names to the Mathieson kids. All the Mathiesons are keen soccer pl
ayers, so this led to quite an opening, and before long I had challenged them to a soccer match.
This proved a lot of fun. Kids from all over the village arrived and participated, some barefoot, and one or two others ran to their houses and came back with shiny soccer boots. At the end they all posed for a group photo with the Pittsburg Steeler's Terrible Towel!
We had had quite a morning!
Justin