As we circled the airstrip to land we saw a herd of about twenty elephant crowd around the edge of a waterhole to slake their thirst…. A prelude of what we were to experience in the next few days.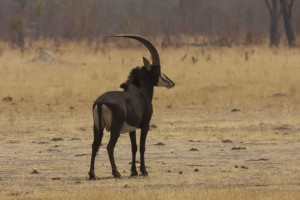 When we left the airstrip we saw two magnificent sable bulls. These rare and beautiful animals are usually mid-day drinkers, having learned to avoid the evening rush.
That evening after a particularly productive game drive (when we saw elephant, giraffe, waterbuck, kudu, impala, warthog, zebra, hippo, baboons and some great birds) we got back to camp to be greeted by a herd of about five hundred buffalo at the waterhole in front of camp. During dinner, the buffalo came right up to the camp and grazed and relaxed all within the camp confines.  This was a wonderful experience, until I had to escort the guests back to their tents through the herd.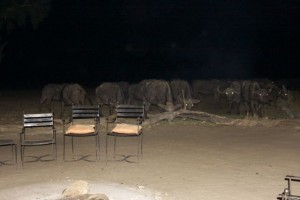 It was an exciting challenge, which was conducted safely without event, but it just brought home the hard facts of where we were…. in the middle of wildest Africa.
Throughout the safari we continued to see wonderful wildlife, including leopard, cheetah, roan antelope and lions, but elephant really dominate this part of the world.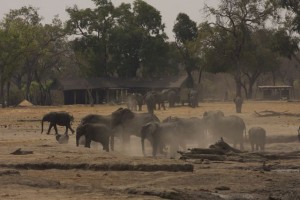 After our morning drive or walk, we would return to camp for brunch and sit in the comfort of the lounge sipping ice cold drinks to counteract the midday heat, all the while watching herds of pachyderms filing in and out of the waterhole, drinking, bathing and dust-bathing. For hours on end the parade continued, with usually never more than about forty or fifty elephant in view at all times…. I was in heaven, this is the Hwange National Park (in Zimbabwe) that I know and love!
Dave