The Wilderness Africa team was honoured to have Dave's family visit us from Zim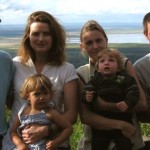 babwe last week. Dave's wife Carol and their two children Jordy and Mitch explored Arusha for their first few days here. Carol mentioned how busy Arusha seemed, and how much traffic there is!
A few days later they, my wife Gillian, my youngest nipper Olethea and I went to Lake Manyara National Park together. We entered the lush forested park with a one year old, a two year old and a three year old, and we certainly weren't the quietest vehicle in the park! The highlights were the freshwater crabs we saw, hiding behind a log in a stream, while we were watching blue monkeys feeding.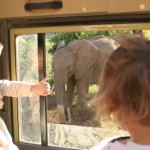 And of course the elephants. We watched elephants walk right up to us, flapping their ears and feeding.
Mitch didn't stop moving and treated the Land-Rover as a jungle jim. Jordy was interested in anything we came across – just like her dad! A termite mound provided entertainment for Jordy and Olethea for quite a while!
It was a very relaxing entertaining day, and it was wonderful to get to know Dave's family.
Justin