We had had an amazing safari, and it was increasingly hard to measure time while we were in the bush. So much had happened, and we had seen so many things. Two weeks ago, when we were in Rwanda tracking gorillas, seemed ages ago.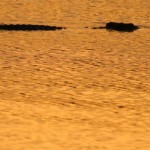 Dave Christensen and I were a little surprised towards the end of our trip when we asked our guests, a wonderful family from California and Nevada, what they enjoyed most. We had stayed in a variety of accommodation including the brand new and aptly designed Sabyinyo Silverback Lodge, and the modern Kigali Serena Hotel in Rwanda, a couple of luxurious semi-permanent tented camps in the Serengeti, the sybaritic Ngorongoro Crater Lodge overlooking one of the most marvelous views anywhere, and Sand Rivers Lodge in the Selous Game Reserve.
Despite staying in so many wonderful places, many of the group best remembered the wildest and simplest camp stay – our night out in a "fly camp" on the edge of Lake Tagalala in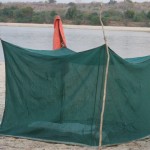 the Selous.
We walked through the bush in the afternoon, following an elephant and hippo trail to the lake, which I might add, is literally infested with crocodiles! The light on the lake at that time, highlighting silhouettes of crocodiles was spectacular. This was accompanied by the chattering calls of a couple of pied kingfishers we saw hovering in search of a fish, before alighting on a dead tree trunk.
We arrived just before sunset, so had time to place our light overnight pack in the "tent" – basically a mosquito net. The light over the lake was so amazing that we then sat by the campfire, had a "sundowner" (an evening cocktail) and watched the sun go down, listening to the ring-necked doves calling and the hippos "wheeze-honking".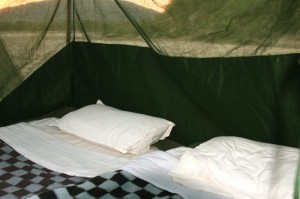 Dinner was under the stars. The Plough or Big Dipper was low on the horizon to the north, and the Southern Cross was low in the opposite side, a sure sign that we were in the tropics. The campfire flickered in the background.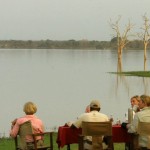 During breakfast the following morning, we were entertained by the activities of a pod of hippos on the opposite bank. There was a bit of a fight, and the loser was chased off into the bushes followed by his attacker – only to be seen almost immediately sneaking back into the lake from another path, provoking yet another attack! This was followed by a crescendo of wheeze-honking from the rest of the hippos in the lake.
I am not sure why I was surprised many in our group enjoyed the fly camping so much! Who wouldn't?
Justin